Michael Ehlers, M.D., Ph.D., Board Chair
Dr. Michael Ehlers is chief scientific officer and a venture partner at ATP, applying expertise gained through a successful career leading research and development at major biopharmaceutical companies. As executive vice president for research and development at Biogen, he led discovery sciences, translational medicine, clinical development and regulatory sciences, with a focus on neurological, immunological and rare diseases. He significantly expanded and diversified Biogen's clinical portfolio, transformed its research and development productivity, advanced more than 20 novel clinical candidates, and oversaw global filings and approvals of Spinraza™️ (nusinersin), the first drug approved for spinal muscular atrophy. Prior to Biogen, Dr. Ehlers was biotherapeutics group senior vice president and neuroscience chief scientific officer at Pfizer, where he created and advanced the neuroscience and rare disease portfolios; directed global development activities in biologics design, synthesis and manufacturing; steered academic collaborations focused on immunology and oncology; and successfully brought 22 compounds into the clinic. Before entering industry in 2010, Dr. Ehlers was a professor and investigator at the Howard Hughes Medical Institute at Duke University Medical Center, where he pioneered studies on neuronal organelles and the trafficking of neurotransmitter receptors. He has authored more than 100 scientific papers and served on multiple editorial boards as well as advisory boards for the National Institutes of Health, private foundations and other organizations spanning industry, academia and government.
Dr. Ehlers received a B.S. in Chemistry from the California Institute of Technology and holds an M.D. and Ph.D. from the Johns Hopkins University School of Medicine.
Anna Batarina
Anna Batarina is a partner at ATP and a leader in international business, capital markets, corporate finance and strategy. Anna joined ATP in 2016 from Braeburn, an ATP portfolio company, where she served as vice president of strategic development. Before Braeburn, she was a member of the strategy team at the Global Fund to Fight AIDS, Tuberculosis and Malaria. Prior to that, Anna was senior vice president and head of capital markets and investor relations at Uralkali, a leading global agrochemical business, where she led one of the most successful IPOs on the London Stock Exchange.
Anna received an M.A. in Global Affairs (Global Health track) and a graduate certificate in Global Health, Public Health from Yale University. She holds an M.S. in Clinical Psychology from Lomonosov Moscow State University, a B.S. in Finance from Financial University under the Government of the Russian Federation, and a CFA charter.
Yechezkel Barenholz, Ph.D.
Dr. Yechezkel Barenholz is professor of biochemistry and head of the Laboratory of Membrane and Liposome Research at the department of biochemistry, Hebrew University-Hadassah Medical School in Jerusalem, Israel. Dr. Barenholz has earned an international reputation as a groundbreaker in nanomedicine for having been among the leading developers of Doxil® (doxorubicin), the first nanomedicine approved by the U.S. Food and Drug Administration, which in more than two decades of clinical use has treated over 700,000 cancer patients worldwide. His studies at the Hebrew University Medical School, conducted with his many students and colleagues from Israel and abroad, have shed new light on the ability to use liposomes built of phospholipids, whose miniature size and biological uniqueness serve as nano-carriers of active pharmaceutical compounds. He has played a role in the development of 55 approved patents, mostly as the key inventor, and in the establishment of six startups. His current efforts to transfer to the realm of antibiotics the nano-medicine applications and principles that he developed together with others, using artificial intelligence and extensive experimental work, has produced a novel liposome-based antibiotic (Nano-mupirocin), a breakthrough in the treatment of infectious diseases, especially those originating in bacteria resistant to most antibiotics currently in use.
Dr. Barenholz received an M.S. and Ph.D. in Biochemistry from the Hebrew University of Jerusalem. While working on his Ph.D. thesis, he studied at the Animal Research Council Institute at Babraham, Cambridge, England, with Dr. R.M.C. Dawson and Dr. A.D. Bangham, the 'father' of liposomes.
Raj Chopra, FRCP, FRCPath, FRSB, Ph.D.
Raj Chopra is head of oncology and a venture partner at ATP. At The Institute of Cancer Research in London, as director of the Cancer Research UK Cancer Therapeutics Unit, he led one of the largest academic drug discovery groups in the world and focused on targeted protein degradation and complex 3D cell culture models. Dr. Chopra also worked at Celgene as corporate vice president of translational and early drug development, leading an international team of more than 100 scientists. Before joining Celgene, he held leadership positions in AstraZeneca's oncology therapeutics group in the U.K. and U.S. Dr. Chopra began his academic career as the director of hematological oncology at Christie Hospital and was group leader at the Paterson Institute of Cancer Research, both located in Manchester, U.K. He was a non-executive director of Artios Pharma, established to develop a next-generation DNA damage response target pipeline of cancer therapeutics, and co-founder of Monté Rosa Therapeutics, a biotech focused on targeted protein degradation.
Dr. Chopra trained in medicine at University College London, where he received a Ph.D. in medicine, cell and molecular biology. He is a fellow of the Royal College of Physicians of London, the Royal College of Pathologists and the Royal Society of Biology.
Seth Harrison, M.D.
Dr. Seth Harrison is founder and managing partner at ATP. He began investing in life sciences in 1991 as a venture partner at Sevin Rosen Funds and went on to be a general partner at Oak Investment Partners before starting ATP in 1999. Some of his earlier investments include Aileron Therapeutics, Akero Therapeutics, ArQule, Coelacanth, Corvidia Therapeutics, Cyrano Sciences, Gloucester Pharmaceuticals, HeartWare International, Informed Access, SGX Pharmaceuticals, Stoke Therapeutics, Syntimmune, Tendyne, Ultracision and ViroPharma. Dr. Harrison currently serves on the boards of Akero Therapeutics and Stoke Therapeutics as well as the 15 portfolio companies created within ATP V, ATP's current fund, to date. From 2002 to 2010, he was a member of the board of the International Partnership for Microbicides, a nonprofit product development partnership focused on women's health and HIV prevention.
Dr. Harrison received an A.B. from Princeton University and holds an M.D. and MBA from Columbia University. He completed a surgery internship at the Presbyterian Hospital in the City of New York.
Aron Knickerbocker
Aron Knickerbocker is president and chief executive officer of Aulos and is a member of the board of directors. Prior to Aulos, he was chairman, chief executive officer and co-founder of RayzeBio, a targeted radiopharmaceutical company. Previously, Mr. Knickerbocker held a variety of executive positions during 10 years at Five Prime Therapeutics, most recently as president and chief executive officer. In this role, he was responsible for licensing bemarituzumab into Five Prime, prioritizing it in the portfolio and driving its advancement into late-stage development as a first-line treatment for advanced gastric cancer, leading to Five Prime's acquisition by Amgen. Mr. Knickerbocker also significantly expanded the clinical pipeline, established multiple transformational strategic alliances and was instrumental in taking the company public. Before Five Prime, he worked at Genentech for more than eight years as head of oncology business development. While there, he orchestrated many key collaborations, including those that led to the marketed products Venclexta®, Cotellic® and Erivedge®. Prior to Genentech, Mr. Knickerbocker worked in commercial development at ALZA (acquired by Johnson & Johnson), corporate development at Amgen and research at Bristol Myers Squibb. He serves as chairman of the board of KAHR Medical Ltd. and is also a member of the board of Phenomic AI.
Mr. Knickerbocker received an A.B. with honors in Biology from Washington University in St. Louis and an MBA with distinction from the University of Michigan.
Yanay Ofran, Ph.D.
Dr. Yanay Ofran is co-founder and chief scientific officer of Aulos and chief executive officer of Biolojic Design. A computational biophysicist and biotech entrepreneur, his scientific work focuses on the application of artificial intelligence and computational biology to the study of genomes, diseases and drugs. As founder of Biolojic Design, Dr. Ofran developed the company's proprietary artificial intelligence discovery platform to predict and design the interactions between antibodies and proteins. He is also co-founder and chairman of Ukko, a venture capital-backed biotech company that designs healthy and safe proteins for the food and agricultural sectors.
Dr. Ofran received a Ph.D. in Molecular Biophysics and Biomedical Informatics with distinction from Columbia University and was a professor of bioinformatics and molecular research at Bar-Ilan University in Israel. He is the author of over 100 papers and patents.
Mace Rothenberg, M.D.
Dr. Mace Rothenberg has more than three decades of experience in medical oncology, academic research and biopharmaceutical industry leadership. He served as chief medical officer of Pfizer from 2019 to 2021 and before that led Pfizer's oncology development organization for 10 years. During that time, his organization at Pfizer developed and obtained regulatory approvals for 11 new cancer medicines, including Ibrance® (palbociclib), the first CDK 4/6 inhibitor for patients with HR+/HER2- advanced breast cancer, and Xalkori® (crizotinib), the first targeted medicine developed for patients with ALK+ non-small cell lung cancer. Before joining Pfizer, Dr. Rothenberg served on the faculties of Vanderbilt University Medical Center and the University of Texas Health Science Center-San Antonio. He has received numerous awards recognizing his accomplishments in oncology research and development and his years of service to cancer patients, including the American Cancer Society's Lane W. Adams Quality of Life Award and the American Society of Clinical Oncology's Statesman Award.
Dr. Rothenberg is a member of the American College of Physicians and the American Society of Clinical Oncology and is board-certified in internal medicine and medical oncology. He currently also serves on the board of Tango Therapeutics. Dr. Rothenberg received an M.D. from New York University School of Medicine, followed by a residency in internal medicine at Vanderbilt University and a fellowship in medical oncology at the National Cancer Institute.
Joseph A. Yanchik III
Joseph Yanchik is a venture partner at ATP and has been founding and funding life science companies for more than 20 years. In 2005, Mr. Yanchik founded ATP portfolio company Tokai Pharmaceuticals, focused on biopharmaceutical treatments for prostate cancer, serving as president, chief executive officer and director. Concurrently, he founded ATP portfolio company Aileron Therapeutics, focused on developing a novel class of stabilized cell-permeating peptides called stapled peptides for cancer and other diseases. He established a partnership between Aileron Therapeutics and Roche Pharmaceuticals and led Aileron from inception to public listing, serving as president, chief executive officer and director. Previously, Mr. Yanchik served as vice president of corporate development at Mendel Biotechnology, an agricultural biotech company, and founded and served as chief financial officer of Poetic Genetics, a gene therapy company. He began his career practicing corporate and securities law at Cahill Gordon & Reindel, where he specialized in public securities offerings, high-yield debt financings, and mergers and acquisitions. He then moved to Venture Law Group in Menlo Park, where he specialized in financing early-stage life science and technology companies. In addition to serving on the Aulos board, Mr. Yanchik is chief executive officer and a board director of ATP portfolio company Elstar Therapeutics.
Mr. Yanchik received a B.B.A. from Loyola College in Maryland and a J.D. from the Villanova University School of Law, where he was managing editor of the Law Review. He is a member of the New York, California and District of Columbia bars.
Michael Hayden, C.M., O.B.C., MB, ChB, FRCP(C), FRSC, Ph.D.
Dr. Michael Hayden is an accomplished scientist and physician, and co-founder of biotechnology companies Prilenia, NeuroVir Therapeutics, Xenon Pharmaceuticals, Aspreva Pharmaceuticals and 89bio. As president of global research and development and chief scientific officer at Teva, he led development and approval of approximately 35 new products in major markets. Dr. Hayden has been named one of the 50 Canadians born in the 20th century who have changed the world, for his research identifying 10 disease-causing genes, including the major gene underlying high-density lipoprotein. Dr. Hayden also identified the first mutations underlying lipoprotein lipase deficiency and developed gene therapy approaches to treat this condition, resulting in the first approved gene therapy product (Glybera®) in a major market. For his outstanding contributions and leadership in medicine and medical science, Dr. Hayden has been inducted into the Canadian Medical Hall of Fame and awarded the Diamond Jubilee Medal by HRH Queen Elizabeth II, the Order of Canada, the Prix Galien, the Canada Gairdner Wightman Award and the Margolese National Brain Disorders Prize. He has authored approximately 900 peer-reviewed publications and invited submissions, and currently serves on the boards of multiple biotechnology companies, including Ionis and AbCellera. Additionally, he chairs the scientific advisory board of Camp4 Therapeutics.
Dr. Hayden received Bachelor of Medicine and Bachelor of Surgery degrees and a Ph.D. in Genetics from the University of Cape Town, South Africa. He also holds honorary doctorates of science from the University of Alberta and University of Gottingen. He is a Killam professor at the University of British Columbia.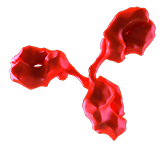 Created by our co-founding partner Biolojic Design, AU-007 is a computationally designed, human IgG1 monoclonal antibody that is highly selective to the CD25-binding portion of IL-2.